Here's a list of recommended reads on the topics of Relationships, Marriage, Family & Parenting. This list will be periodically updated! Click on the book covers for more info.
(*available via church library)
Segal, Marshall.  Not Yet Married: The Pursuit of Joy in Singleness and Dating. Crossway, 2017.*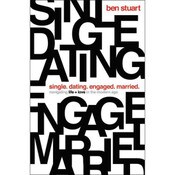 Stuart, Ben. Single, Dating, Engaged, Married: Navigating Life and Love in the Modern Age. Thomas Nelson, 2017.*
Marriage
Chan, Francis & Chan, Lisa. You and Me Forever: Marriage in the Light of Eternity. Claire Love Publishing, 2014.*
Harvey, Dave. When Sinners Say I Do: Discovering the Power of the Gospel for Marriage. Shepherd Press, 2007.*
Keller, Timothy. The Meaning of Marriage: Facing the Complexities of Commitment with the Wisdom of God. Penguin, 2013.*
Piper, John. This Momentary Marriage: A Parable of Permanence. Crossway, 2009.*
Thomas, Gary. Sacred Marriage: What If God Designed Marriage to Make Us Holy More Than to Make Us Happy? Zondervan, 2015.*
Tripp, Paul David. What Did You Expect? Redeeming the Realities of Marriage. Crossway, 2015.*
Parenting
Baucham Jr., Voddie. Family Driven Faith: Doing What It Takes to Raise Sons and Daughters Who Walk With God. Crossway, 2011.*
Carter, Joe. The Life and Faith Field Guide for Parents: Help Your Kids Learn Practical Life Skills, Develop Essential Faith Habits, and Embrace a Biblical Worldview. Harvest House, 2019.*
Jensen, Emily & Wifler, Laura. Risen Motherhood: Gospel Hope for Everyday Moments. Harvest House, 2019.
Lopes, Jerrad. Dad Tired and Loving It: Stumbling Your Way to Spiritual Leadership. Harvest House, 2019.
Murray, David. Why is My Teenager Feeling Like This? A Guide for Helping Teens Through Anxiety & Depression. Crossway, 2020.
Simons, Ruth Chou & Simons, Troy. Foundations: 12 Biblical Truths to Shape a Family. Harvest House, 2020.
Tripp, Paul David. Parenting: 14 Gospel Principles That Can Radically Change Your Family. Crossway, 2016.*
*available via church library